Classic Blackjack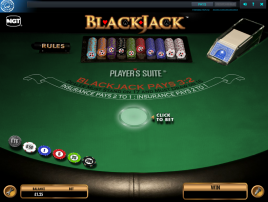 The Classic Blackjack game is ideal for those who only wish to play and concentrate on one hand at a time, rather than playing up to five which is possible in multi hand blackjack games.
It is blackjack in its purest form; a single player pitting their hand and skill one-on-one against the dealer's hand. No having to worry about five hands at a time, no having to wait for other players at the table to make a decision as there is in live dealer blackjack... just quick and simple, win or lose, single hand blackjack action.
Classic Blackjack Wagering Limits
Table maximums are lower than some of the other online blackjack games, particularly the live dealer blackjack tables. The maximums for Classic Blackjack are £2,000 per hand.
Play Blackjack for Higher Limits
For those high rollers who truly wish to play online blackjack for high limits, the live dealer blackjack games provide the perfect opportunity. The highest stake tables have maximums of £10,000 per single hand.
To get started playing Classic Blackjack, or indeed any of the other blackjack games, please click on the "Enter Casino" button at the top of the page.
Blackjack Articles
Straightforward to learn, a low house edge and a player having a degree of influence over the outcome all make blackjack one of the most popular of casino games.
Rather than making money, those who already have a lot may simply play in a casino for high limits because of the attention they receive. And why not we say!
Article Library